Unsound Krakow 2017
Sunday, October 8, 2017 - Sunday, October 15, 2017
Trip of Love
The hippy movement first arose half a century. To celebrate, this year's Unsound (8-15 October) is titled Flower Power!
In 1967, the summer of love drew thousands of young people from all over the globe to San Francisco. Young Americans had grown sick of their grey everyday realities, living hand-to-mouth, dining at the same time every day and the nuclear family model. This mutiny against the adult world – "don't trust anyone over thirty!" – resulted in the blossoming of pacifist and environmental movements, growing interest in the spirituality of the East and rebellion against the rat race and consumerism. Flower children also embraced free love, bringing about a sexual revolution. The summer of love finished in the blink of an eye, bringing in its wake unwanted pregnancies and scores of young people hooked on psychoactive substances and hard drugs. Recalling the ideas of protest and hedonism, oppression and resistance and the aesthetics of utopias and dystopias, motifs of Flower Power gave rise to Charles Baudelaire's Flowers of Evil and opium addicts, widespread rebellion, lust and dark ecology, entranced by the ticking of the clock of the Armageddon.
Make love, not war
"The only war I've ever participated in was the Cold War. I wouldn't want to take part in any other," said Blixa Bargeld, founder of Einstürzende Neubauten, created in 1980 in West Berlin. Three years ago, the pioneers of industrial music returned with their first ever concept album Lament. The record was commissioned by the Belgian town of Diksmuide to coincide with the centenary of the outbreak of the First World War. "Before the war, empires armed themselves to the teeth, so it was clear that conflict was inevitable. Today NATO must strengthen itself following Russia's annexation of the Crimea. Nothing has really changed in the last hundred years," Bargeld adds. He is a pacifist, but it doesn't extend to his creative work. The group has always refused to conform – they oppose pop and create harsh, at times unpleasant music frequently using industrial tools and machines. Their appearance at Unsound is a perverse upside-down embodiment of the concept of Flower Power. For them, fragility in music is the sound of breaking glass.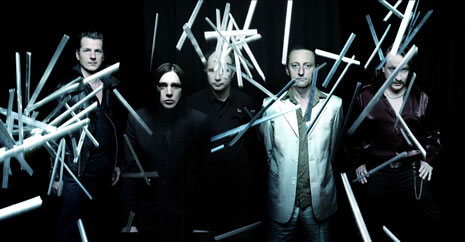 Money isn't everything
"I worked hard for a year, made three films and I had no idea what to do with this money! Banks wouldn't take it, I wasn't allowed to bring it into the country. I gave it all to kids, yet the money just kept coming. Finally, one day in Budapest I chucked it all out of the window. I watched people picking it up. Old men raced for it like sprinters," recalls Jan Nowicki, the actor who rose to fame for his unforgettable role in Big Shar. Artists never seem to run out of ideas for shocking audiences… But the guest at this year's Unsound exceeds all expectations. Bill Drummond – half of the eccentric duo KLF – is well known for his ideas. During the Brit Awards in 1992, when KLF were awarded the prize for Best British Group, he delivered a few rounds from a machine gun – using blanks, of course, but the audience weren't to know. He closed his performance by announcing his retirement. Talk about leaving with a bang! But that wasn't the end of his stunts, and Drummond was back on the front pages just two years later when he set fire to one million pounds in cash, the remains of KLF's earnings! The mountain of cash took an hour to burn. In Kraków, Drummond will deliver a lecture and a film screening, and he's also planning to shine shoes. He has set himself a challenge to polish a thousand pairs by 2025, the same year when he turns 72.
Flower garlands
The next fascinating guest at this year's Unsound is Mike Cooper. In the early 1960s, Jagger and Richards asked him to join the Rolling Stones. He knew them from his blues club, and when he turned them down, they recruited Brian Jones instead. Cooper wasn't in the slightest bit bothered, saying a few years later, "Fame is the worst thing which can happen to you, because once you've got it you can never be free of it." He always followed his own path: he records folk/blues albums, paints, travels, fishes and collects floral shirts. He plays an old lap steel guitar and composes abstract ambient music inspired by the Hawaii Islands where he often resides.
Follow your heart
"I'm a girl from Siberia and I like clear rules," says Nina Kraviz. She was born in the Soviet Union, in the permanently frozen Irkutsk, and discovered music thanks to her father who collected jazz vinyls. She became fascinated with electronica after she moved to Moscow to study dentistry. She got her big break following the release of her first album Pain in the Ass. Aware of her stunning, sensuous looks, the DJ is never afraid to shock, and she frequently adds erotic moans and grunts to her deep house tracks. One of her most popular tracks is I'm Gonna Get You, in which Nina whispers obscenities. "Sex is an important element of my image," she says bluntly. She adds, "Call it what you like, but my own voice is my favourite instrument."
The predecessor of hippies
During the summer of love, he was already entering his autumn years. Moondog would have been celebrating his hundredth birthday last year. He lost his sight aged 16 as a result of a dynamite explosion. His real name was Louis Hardin, but in his early 30s he took up the moniker of Moondog in honour of his dog who used to howl at the full moon. He was already living in New York and performing on its streets, clad in a cloak of his own making and a Viking helmet, convinced that fashion was invented by huge corporations aiming to brainwash the masses. He composed extraordinary music at the intersection of classical, jazz and highly rhythmical world music. He was one of the protagonists of this year's Sacrum Profanum Festival, while Unsound premieres the project Moondog for Gamelan in which the acclaimed Indonesian composer Iwan Gunawan and his ensemble Kyai Fatahillah join forces with the Swedish artist Stefan Lakatos. The latter plays the trimba – an instrument devised by Moondog himself. The concert also presents a previously unheard composition by the New York Viking, written especially for his friend Lakatos.
All this noise
The counter-cultural potential of noise forms the next chapter of this year's Unsound. The BNNT duo of Konrad Smoleński and Daniel Szwed is best known for their performative music project, in which the artists appear in different places in Poland and surprise audiences with their experimental music. Their latest album, titled Multiverse, features the Swedish titan of saxophones Mats Gustafsson, who also joins them in Kraków. As a teenager, he played in many different jazz rock and punk bands in his hometown of Umeå. It may well have influenced his extreme style of playing, which can hardly be described as tuneful. Instead, like a musical Jack the Ripper, he tears and punctures his surroundings with his instrument's sounds. The effect is magnified by his boundless energy – he is rarely able to keep still for more than a moment on stage.
Turn on, tune in, drop out
Unsound has prepared plenty of surprises for its 15th birthday. Kraków welcomes the legend of ambient techno GAS, AKA Wolfgang Voigt, who made a return this year after a 17-year break with the album Narkopop. The artist, open about his experiments with LSD, has created an equally narcotic record aiming for a certain vision of the absolute. Księżyc have prepared a special concert: they made their great return in 2014, also during Unsound, and they immediately started touring and released a new album. The group perform with Paweł Romańczuk from Małe Instrumenty and the cult Ukrainian singer/songwriter Svitlana Nianio creating a musical tale of change, death and all that is feminine and mysterious. Jon Gibson, one of the most important representatives of 20th-century American avant-garde and Minimalism, presents his own take on Flower Power. We will hear his Visitations from 1973, performed on modular synthesisers and percussion. Gibson and his ensemble are joined by the Polish percussionists Hubert Zemler and Miłosz Pękala. The concert is accompanied by a screening of the 1970 film One Way – a journey through neverending landscapes of American deserts. What else? The opening ceremony features artists representing the "New East": Slava Lepsheev and Konakov from Ukraine and Inga Mauer from Russia. We are also promised a performance by the enigmatic Eleh, a fascinating electronica artist who rarely plays live. Mumdance and Wife (ex-Altar of Plagues) combine black metal with grime as Bliss Signal. We will explore the culture of Colombian soundsystems with Pico, listen to electronic wedding songs from Uganda and admire the South African Manthe Ribane, formerly a dancer with Die Antwoord and now an artist signed to the Hyperdub label. There will also be plenty of club artists from around the globe, showing once and for all that Forum doesn't just host techno events: there will be dancehall, deconstructed hip-hop, batida, jersey club, Miami bass and Argentinian ramba. Pretty cool, no? (Artur Jackowski, "Karnet" magazine)